Beach season doesn't usually hit Cape Cod until late June...sometimes even July 4th weekend. Although, we have been known to grin and bear a little wind for the glimpse of a tan. But goosebumps really don't look good on anybody. Until then, I like to hang my bathing suit in plain sight - a reminder that summer days are a coming. Whether that brings solace or dread, finding that perfect swim suit is motivation to a) get through deceivingly sunny yet chilly spring and/or b) revamp our eating and exercise routines. Besides, picking out that new summer suit is half the fun - and you don't have to wear it quite yet!
Here are a few of my favorites this season:
A classic Cape Cod stripped number:
Jcrew
For something a little more modest, this shapely one piece comes in a variety of colors. I personally love the vivid poppy, but red bathing suits are easily admired and not so easily worn. The side ruching, underwire cups and thick halter of this navy number is pretty
and
flattering.
How pretty these nautical one piece's? I love the rope detailing and vintage feel of the first one. The
second
one is swim-wears equivalent of a wrap dress...the key word here being
flattering.
I'm also obsessed with the third bikini -I can't resist a little ruffle! (However, heels on the beach? Not here on Cape Cod...) If you like these suits, check out
Kushcush
's website. They have some really unique styles.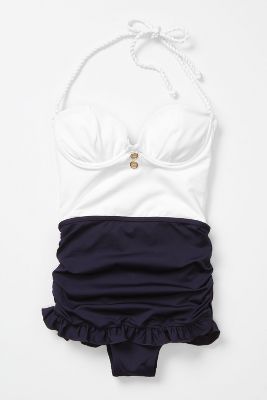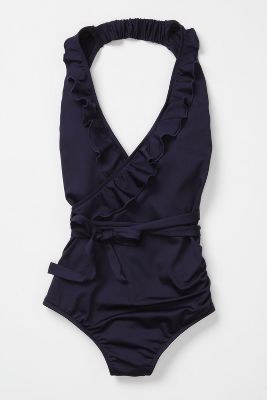 I came across this
lobster
detailed bikini on Anthropologie - an obvious choice.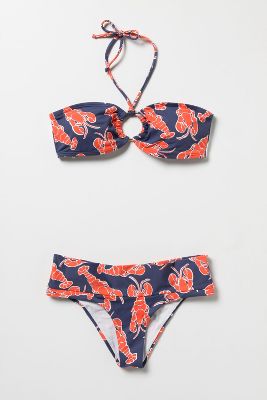 I realize spending 100+ on a bathing suit seems a tad frivolous. However, I have to say, quality makes a huge difference - nothing's more uncomplimentary than a bathing suit falling apart and scattered with pills and balls. Plus, finding a winning bathing suit guarantees an extra boost of beach-side confidence. That being said, I've had some
great
luck at TJ Maxx. Just recently, I discovered an array of Marc Jacob's and Trina Turk swimwear at the TJ's in Hyannis. I nabbed a great MJ bikini for 30 bucks! Granted, this took a bit of digging and suffering through TJ's dressing rooms (distorted mirrors, florescent lightening, dust bunnies trolling the floor...). Well worth it!
Let the search begin! Summer is fast approaching!